Hill Rhythms David Jones And Capel Y Ffin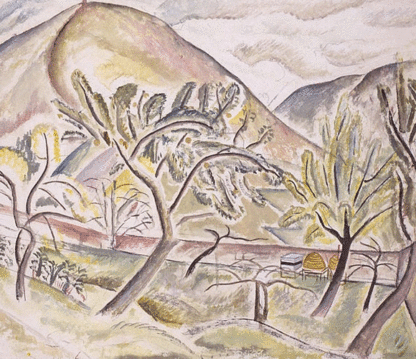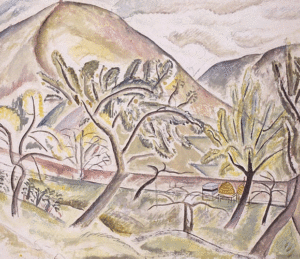 Why bother queuing for hours and paying £33 to look around a few selected rooms such as Buckingham Palace? Or spending hours trying to buy a ticket online for a sellout art exhibition? When you can turn up in your own time to the newly refurbished Brecon Museum and enjoy an outstanding exhibition of David Jones' paintings for FREE. This exhibition is called Hill-Rhythms, David Jones + Capel-y-ffin and I recently had the enormous pleasure of going to it. It will be on until 29th October and I highly recommend a visit.
David Jones was born in 1895 to an English mother and a Welsh father. He was brought up in Brockley, Kent, where at an early age he showed strong artistic talent and at 14 years old went to Camberwell Art School. During the First World War young Jones joined the Welsh Fusiliers (as did my grandfather) and endured some of the worst experiences of this war, for the most prolonged time, of any of the British Army Regiments. Needless to say, Jones, like my grandfather, never recovered for the effects of the War, and for the rest of his life he suffered from depression and agoraphobia. His epic poem of 1937 'In Parenthesis', describes his war experiences, and it was performed on BBC Radio in 1955, with Richard Burton reading the part of the main character, John Bull.
On his return from the War, Jones was invited by the infamous Eric Gill to join his artists' community in the grounds of Llanthony Abbey, Capel-y-ffin, deep in the Black Mountains, between Hay on Wye and Abergavenny. This was to be a pivotal moment.
Jones' artistic talents blossomed here, both as a painter but also as an engraver. He developed his own artistic style which set him on his way – so much so that he destroyed nearly all of his pre 'Capel-y-ffin' artworks.
As a painter he worked mostly in watercolour on portraits, animals, landscapes and religious subjects, he was also a talented wood-engraver and inscription painter. His work was informed by his Christian faith and Welsh heritage.
David Jones was only one of the many famous artists who survived the horrors of the First World War, Paul and John Nash, Stanley Spencer, Charles Ernest Butler, Henry Moore and Eric Ravilious (killed in action) to name but a few.
Athene English