Travels In The Faroe Islands
Travels In The Faroe Islands
The Grind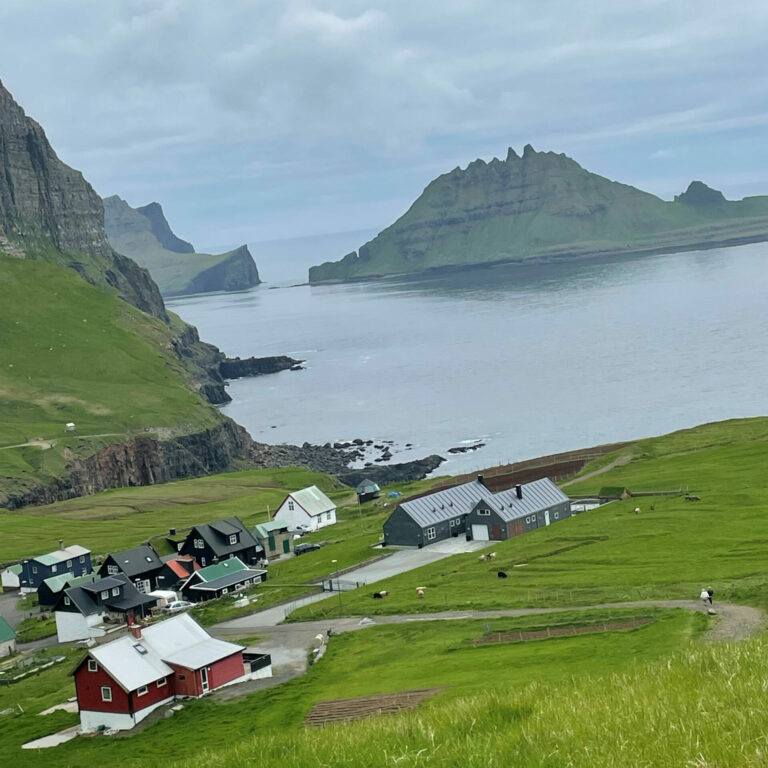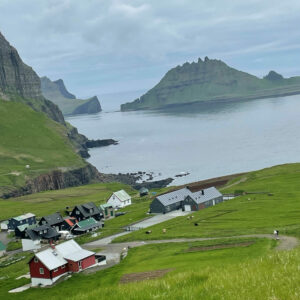 In June I travelled North again following my theme of islands and islanders, seabirds and sheep. I am curious to find a thread that unites these different islands with their 'special' ancient breeds of sheep, whose gene pools are fiercely protected by the islanders. So far I have visited Shetland and its isles, Orkney, North Ronaldsay and Foula.
The next trip was to be Fair Isle or the Faroe Islands and I chose the latter. The Faroes are independant but a protectorate of Denmark, and consists of 18 volcanic islands, many of which are now connected by an amazing network of tunnels. The landscape is stark, harsh, dramatic, vulcanian and almost treeless. Awesome steep sided cliffs plunge 100s of metres into the Atlantic. Its landscape seems to have been moulded by giants with huge glacial fjords, sparkling water and waterfalls, with a sprinkling of turf roofed Hobbit houses and an enormous number of sheep.

Hobbit House
The sun never sets in the Summer, so these sheep have 24 hour grazing time, rendering every surface devoid of habitat except for a few wild flowers clinging to the very furthest reaches of the cliff edges.
In preparation for this trip I had read up on the last native breed of wild sheep of Faroe, Litla Dumin sheep, but on arrival I discovered that the last three remaining sheep had been shot in 1860 for being too unruly, stuffed and placed as pride exhibits in the National Museum of Torshavn, the Islands' capital. I should have taken this as an omen.
We did travel to some wonderful places including the little visited Eastern islands of Svinoy and Fugloy, where there are a handful of people who still permanent settlers on these islands. Supported by an excellent and cheap ferry service, these islanders have a certain vigour and sense of urgency about them, all gathering as the ferry comes in. People, cargo, dogs and sheep are taken on and off the ferry in a matter of seconds, whilst snatched conversations take place between crew and villagers, before they disperse back to their remote farms, and a certain stillness returns until the next ferry.
All went well until the last couple of days, which we were planning to spend in Vestmanna, on the island of Streymoy. Vestmanna is a small harbour, surrounded by high passes, and as we came over the last pass and descended down into the harbour, I saw that the whole harbour was coloured – red with blood, as far as the eye could see.

Bloodbath
My initial suspicion turned to horror as we approached the scene and I started to take photographs, as I couldn't believe what I was seeing. A bloodbath of such proportion, I couldn't comprehend what I was witnessing. There were three young women huddled by their car on the seafront and I went over to talk to them, they were french tourists. I asked them if they had seen what had happened. Visibly shaking they said 'yes' and described how they had returned from a sightseeing boat trip and they had witnessed 100s of boats driving a pod of pilot whales onto a beach, where 100s of men were butcheringt the whales with knives. It was a crazy, frenzied bloodbath with desperate whales trying to escape, None did.

The Grind – Pilot Whales disemboweled and a mother Pilot Whale with phoetus removed
I soon saw where they were pulling the newly butchered whales onto the harbour, using cranes, lifting them, one to three at a time and lying them in rows along the seafront, then cutting them open along their stomachs, pulling out their guts. When I arrived at the scene there were 70 whales lying with their eyelids closed, their unborn babies, ripped out and lying beside their mothers – the young, the old, the entire pod, a total theriocide and everywhere blood. I walked through it – I experienced it – the whole horror – the hideousness of mankind. and I felt sick, ashamed to be human, sick to see this utter brutality and I have to share this.
This hideous spectacle is something called the Grindadrap or the Grind and is considered to be part of the Faroe culture, It has always been practiced this way in the Faroes, in the past someone would spot a pod of dolphins or whales, the whole community would come together, leaving people on the beach, the rest going out in boats to surround the pod and drive them onto land, where others would be waiting with knives and grappling irons to slaughter as many as they could for food which would be distributed amongst the locals. It is still practiced like this but the chance of some of the whales escaping this butchery has been eliminated by the sheer number of motorised boats, and the use of digital devices such as mobile phones, sonar technology and drones. The Faroes justification for this hideous massacre is that the meat is carved up and distributed amongst the community, and not 'traded or sold'. However with plenty of supermarkets on the Islands today, which are packed with food from all over the world, this is hardly a justifiable reason.
In the Grindadrap that I witnessed the total slaughter was 266 pilot whales, this was repeated two days later, in a nearby village with a total of 166 dead whales. The Grindadrap takes place every year, all around the islands from May to September. It was reported that on 15th September 2021 , in one Grind, 1,428 Atlantic White-Sided Dolphins were massacred and a further 667 Long-Finned Pilot Whales were slaughtered. I have a particular concern this year, with the exceptionally hot weather that the North Atlantic is experiencing this Summer, that these beautiful animals are already under stress.
Had I known what lay instore I would not have chosen to visit the Faroe Islands. They are openly trying to encourage international tourism in order to increase their annual revenue by 20% as part of their campaign to establish their independence from Denmark. There is no mention of this horrendous tradtition on their website where they even have a section entitled Family Friendly Faroes.
I will never forget the image of those beautiful animals lined up on the harboour – blood everywhere – their stomachs cut open – unborn babies ripped out lying beside them; whilst parents and children, licking icecreams walked amongst these bleeding animals, and we call ourselves civilised???
For further information click on the following links:
Blue Planet Society
Stop the Grind
Athene English