A Month in The Country by J L Carr
A Month In The Country
J.L.Carr
This in one of my favourite books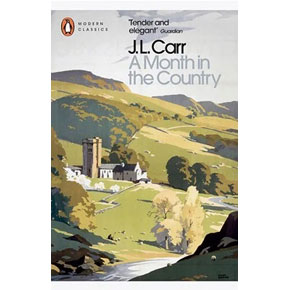 Carr tells the story of a survivor of the First World War, Tom Birkin, damaged by his experiences. Finding refuge in the quite village of Oxgodby, where he plans to spend the Summer uncovering a large medieval wall painting in the Church. As an old man, Birkin looks back on this time, immersed in the peace and tranquility of the unchanged arcadian landscape and the gentle rhythms of village life, he finds a sense of renewal and hope for the future….
Described by D J Taylor of the Spectator 'Unlike anything else in modern English literature'
Carr writes beautifully evoking an idyllic rural landscape that is about to change…
'And then they came, the morning sun gleamingon their chestnut and black backs, glinting from martingales medalled like generals. Their manes were plaited with patriotic ribbons, their harness glowed – those great magical creatures soon to disappear from the highways and turning furrow. Did I know it even then? I suppose not, nor anyone else in Oxgodby. From childhood they had always known the sound of hooves fitfully beating stable floors in the night hours and the bitter smell of burning horn at the smithy. How could they foresee that , in a few brief years, their fellow sharers of field and road would be gone forever?
Whilst parents sat in back-to-back state on benches ranged down the middle of the flat four-wheeled carts, the lads and girls dangled their legs over the sides. Our party was hauled up on the second equipage, greeted heartily and told that the confidently expected heat would soon have our jackets off. And so we clattered off, calling farewell to those disqualified by infirmity or alien beliefs from joining us , conscious (as they were) that we were part of the ancient cycle of the farming year and that our passing was token that the harvest was almost in.
Am I making too much of this? Perhaps. But there are times when man and earth are one, when the pulse of living beats strong, when life is brimming with promise and the future stretches confidently ahead like that road to the hills. Well, I was young…..'
Athene English