An Uninvited Guest
An Uninvited Guest
Tawny Owl Comes Down The Chimney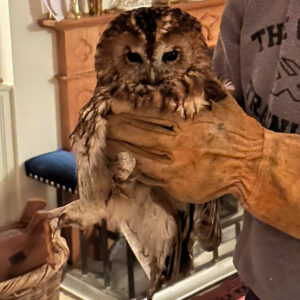 Last week we had an invited guest in our sitting room, a Tawny Owl came down our chimney. It was quite a shock for both of us! The owl must have been stunned and in shock as it was very quiet, so it was easy to pick him up and take him outside. However once back in the garden it looked as if the owl had a broken wing, so having unearthed a dog cage from the chaos of our barn, it was fairly easy to recapture and house the owl. Old Tawny was very happy in his new home for the night.
Hereford Owl Rescue is only seven miles away and the owner was incredibly helpful, explaining that I shouldn't feed my new visitor or provide any water over night, and that she would offer the owl a new home, because if the wing was broken, it wouldn't mend. It was agreed that I would take Old Tawny to its new home the next day.
On arrival at the Owl Rescue centre Old Tawny was given a thorough examination which did not go down well! My owl visitor was not an Old Tawny but Young Tawny; an adolescent boy, female Tawny Owls are much larger, and he was well covered as he had been feasting on the abundance of voles in our meadow! There were no broken bones and he flew well in the aviary. He must have been stunned and slightly concussed from his chimney descent.
Returning home with our owl, we planned to release Young Tawny back into the wood, adjacent to our garden, at dusk. Reluctantly I took the cage to the woodland and placed it on the ground. The owl had been so placid and such a very well behaved guest, he wasn't in a rush to leave and looked up at me with his huge deep brown eyes, almost as if to say thank you! Having hopped out of the cage he flew off into the trees. At dusk I return to the place where I released our owl visitor in the hope of hearing his call. And call he does!
Candida Hopkinson