Damson Ice Cream
The most delicious ice cream and a fantastic colour!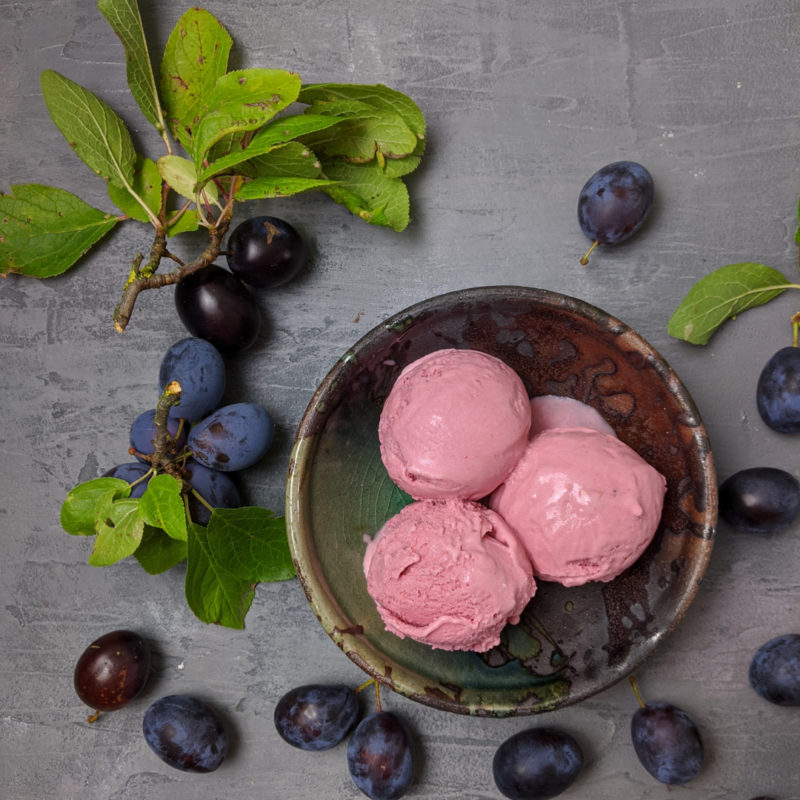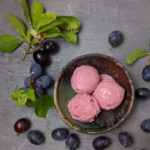 Ingredients
600g

damsons

500ml

whole milk

500ml

double cream

300g

granulated sugar

2

tbsp cornflour
Put the damsons (whole) into a saucepan with a generous splash of water – enough to cover the base of the pan. Set it over a medium heat, and simmer gently, stirring occasionally, for about 20 minutes, until the damsons have all burst, and the flesh has mostly come away from the stones – it should be really saucy, and a deep purple. Just keep a close eye that it doesn't catch and burn on the bottom, which it will do if your heat is up to high, or you don't stir often enough.
Set a fine mesh sieve over a bowl, and pass the damson puree through it. Use a spatula to really push the puree through, until you're left with quite a dry looking mixture of just the stones and the skins in the sieve. Discard what's in the sieve and set the puree aside to cool.
In another saucepan combine the milk, sugar, and 250ml of the cream. Set it over a medium heat and bring it to the boil. Meanwhile, whisk the remaining 250ml cream with the cornflour until smooth. Once the cream and milk mixture comes to the boil, pour in the cream and cornflour mixture, and whisk constantly over a medium heat until it returns to the boil. Turn down the heat, and – still whisking constantly – simmer it for 3-4 minutes until thickened.
Remove it from the heat, pass it through a sieve, and allow it to cool.
Once cooled, whisk in the damson puree, and churn according to your ice cream maker's instructions!
If you don't have an ice cream machine you can still make the ice cream. Just pour the mixture into a freezer box and place in the freezer, removing it every hour and giving it a good beating with a small whisk, bringing the frozen outer edges into the middle. The result will be good, but less light and creamy as that made in a machine. It will need a good four hours or so to freeze.