The Puffin
Fratercula arctica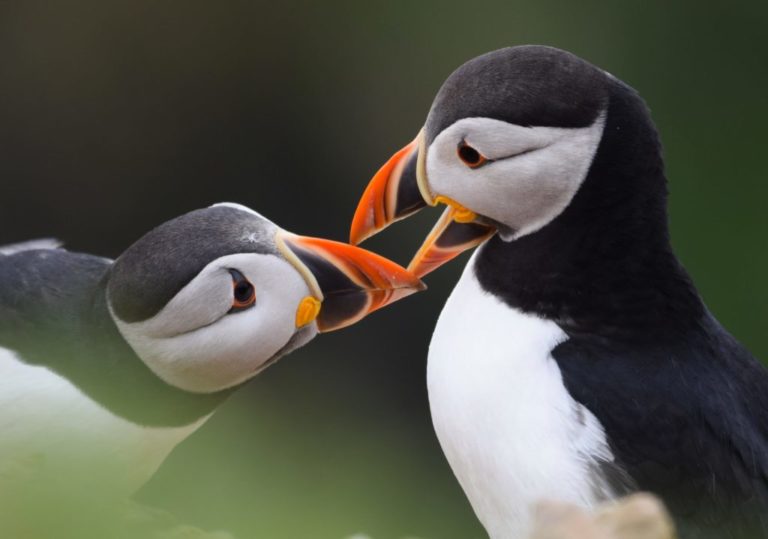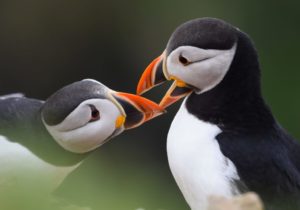 Clown like in appearance with bright orange webbed feet and brilliantly coloured bill, the Puffin is one of my favourite birds.
Sometimes called the 'Sea Parrot' these comical birds have been here in UK, in their colonies since April; by the end of this month they will be departing for the wide open seas where they will remain until the next breeding season. They are perfectly adapted to spend long months at sea, far from land.
Only approximately 18 cm tall adult Puffins feed on small fish such as sand eels, hake and herring. Baby Puffins or Pufflings are fed fish by their parents and one of the most prized photographs of Puffins is that off an adult carrying sand eels for their young.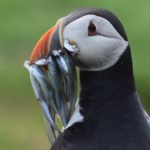 Part of the Auk family, Puffins feed primarily by diving under water. During the breeding season they gather in large colonies on coastal cliffs or offshore islands, nesting in crevices in the rocks or in burrows in the ground.
Most Puffins don't breed until they are about five years old – they can live for up to 20 years. The oldest Puffin on record was 36. The Puffin's bill and webbed feet are designed for the digging of burrows. Most burrows are about a metre long and are dug with a toilet area around the first bend! and with the nest at the back.
Puffins only lay one egg a year and they usually keep the same mate for life and re-use the same burrow for breeding. Pufflings require a lot of care, feeding several times a day. The male and female Puffin share the parental duties.
During courtship the Puffins use body movements to communicate and the Puffins perform 'billing', as illustrated in Matthew Stadlen's beautiful photograph above. This is when they rub their colourful beaks together,  usually this display will draw a big crowd of Puffins to share in the excitement.
I have had the privilege of visiting the Puffin colony on Skomer Island. Here the Puffins are thriving aided by the very carefully controlled influx of visitors during the breeding season. Our role is to keep the gulls away from the vulnerable Pufflings. The Puffin count of 2016 indicated a colony with over 22,000 birds.
However this is not the overall trend and Puffin numbers are in decline.  Puffins are now on the red list – the highest conservation priority, with species needing urgent action. With climate change and the rise in sea temperature the abundance of plankton is decreased which in turn leads to a reduction in the growth and survival of young sandeel and herring on which the Puffins rely, particularly during the breeding season.
A Puffin recently made headlines in the news. A rare white puffin has been spotted this year on the Scottish island of Handa. The young puffin has only a few black feathers and its bill is largely orange. Scottish Wildlife Trust said the bird's lack of pigmentation was caused by a genetic condition called leucism.
Candida Hopkinson