Laverbread
Laverbread, Bara Lawr in Welsh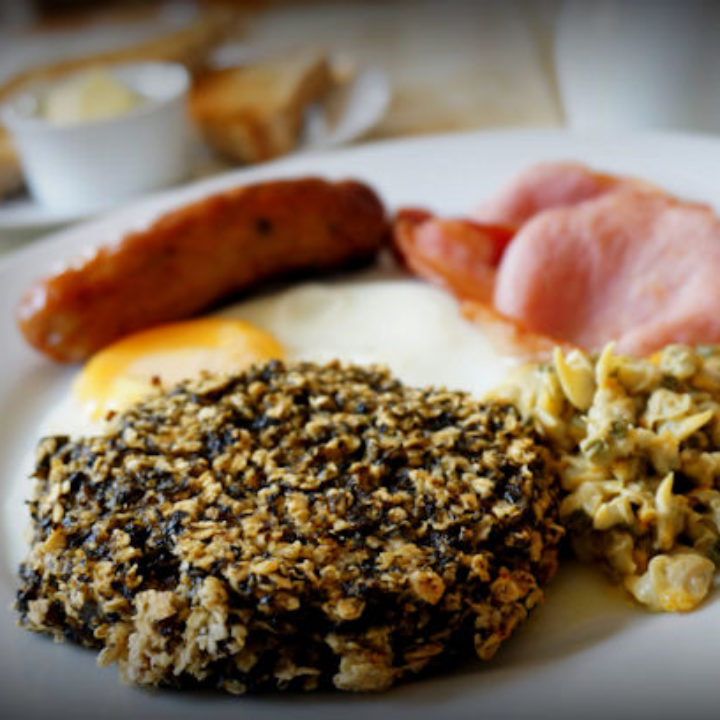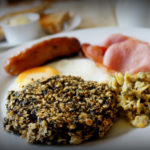 A traditional Welsh dish. Delicious with bacon and eggs. Laverbread is actually seaweed with olive oil, lemon juice and salt and pepper, mixed with oatmeal.
Ingredients:
450g prepared laverbread
50g oatmeal
4 rashers bacon
To make your own Laverbread
600g fresh laver seaweed
3 tablespoons olive oil
1-2 teaspoons fresh lemon juice
salt and pepper, to taste
Wash the seaweed and rinse in clean water several times. Over a low heat, or in a slow cooker, simmer the seaweed for 6 hours until it turns into a dark pulp.
Combine the laverbread, olive oil, lemon juice and seasoning and stir through.
For breakfast
Divide the laverbread into four and coat with oatmeal.
Fry gently for 5-10 minutes in bacon fat. Grill or fry the bacon in another pan.
Serve hot.
A little vinegar over the laverbread brings out its delicate flavour.
Laverbread is a smooth fine seaweed, Purple Laver, found off the shores of South Wales.
Make sure the seaweed is washed thoroughly to remove all sand and grit.
It is then boiled for 5-6 hours until it is quite soft. The liquid is drained off. This prepared laverbread is sold from wooden tubs lined with white cloths in the markets of Wales. It should be used and eaten as soon as possible.